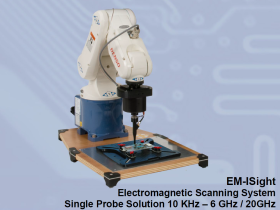 The innovative engineers at Aprel have announced that the popular EM-ISight EMI scanning system is now upgradeable to 20GHz, utilizing a single probe solution.
The specifics of the upgrade involve upgrading the system software, additional probe calibrations and a new micro Stripline for self calibrating and verifying the system.
This upgrade makes Aprel the only near-field scanning system manufacturer to provide a single probe solution that is capable of testing frequencies from 10kHz all the way up to 20GHz.
For additional information on the new 20GHz capabilities of the Aprel EM-ISight EMI scanning system, contact a BIZI representative today!
Call 1-800-370-0123 or 1-978-649-0722!
Aprel EMI Scanning System Links:
Aprel EMI Scanning Solutions
Aprel EM-ISight – EMI Scanning System
Aprel Mini-HAC – Hearing Aid Compatibility System
Aprel ALSAS-10U – Universal SAR Compliance Test Station