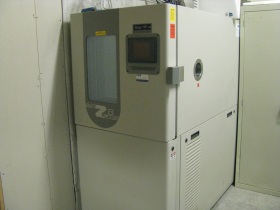 Cincinnati Sub Zero Z8 Plus Termperature Chamber, Model: ZP-8-1.5-H/AC, Inner Dimensions: 24x24x24 / Outer Dimensions: 67x41x67, Temperature Range: -34°C to +190°C (-30°F to 375°F)
BIZI Price: $11,000.00 – Sold! – 2/15/2012
* Inquire Today! This temperature chamber won't last! Please Call 800-370-0123
From the Manufacturer:
Cincinnati Sub Zero Z-Plus chambers are designed for ease-of-use, reliability and performance and include many user-friendly features standard.
Cincinnati SZ ZP8 Communications:
RS-232/485 serial communications, Ethernet control and monitoring offer a selection of communications options.
Cincinnati SZ ZP8 Cabinet
One adjustable product shelf slides out for easier product access. Shelf design is non-tipping and supports large product loads.
Two, 4″ ports are centered on the left and right side of the chamber for ease of cable routing.
Fog-free viewing window and interior light makes viewing workspace hassle free.
Leveling legs and casters are heavy duty swivel type designed for long life under heavy loading.
Single-handed latch operation and removable side panels allow for easy access to all systems.
Fully welded ports and shelf pilasters eliminate potential leaks, increasing the life of your chamber.
All liners are constructed from Type 304 brushed stainless steel that is easy to clean. All seams are continuously welded to form a hermetically sealed unit to prevent moisture migration.
The chamber exterior is constructed of formed sheet steel for structural strength and finished with a durable powder coat finish or textured polyurethane paint.
Cincinnati SZ ZP8 Refrigeration & Performance
Refrigeration design protects compressors and prolongs life keeping cool during all operating conditions.
Refrigeration design uses less power, saving operating costs.
Pressure gauges allow operating pressures to be continuously monitored.
Utilizes refrigerants which are environmentally safe, non-flammable, non-explosive and have a Zero Ozone Depletion Potential (ODP).
High volume airflow system includes robust air circulator motors that provide better airflow and improves controllability within the chamber.
Better airflow minimizes temperature gradients and accelerates temperature change rates of the device under test.
Call Today! 1-800-370-0123! or visit our Cincinnati Sub Zero Z-Plus ZP8 (ZP-8-1.5-H/AC) product page.
You may also leave us a comment on this post and a BIZI representative with contact you promptly.
Thanks for viewing this post!