Aprel is a pioneer in the design of fully automated electromagnetic noise scanning test solutions.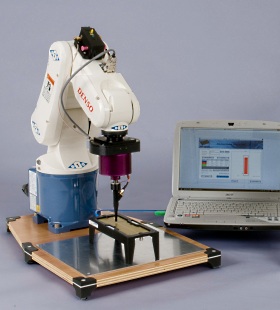 The EM-ISight EMI Scanner has been developed as a fully automatic system for detecting the sources of electromagnetic interference (EMI) and RF noise emitted by electronic devices and their respective circuits.
The EM-ISight system enables design & quality assurance QA engineers to quickly & definitively pin-point the areas in a problematic circuit that are the source of the electromagnetic interference.
The EM-ISight is a flexible EM measurement system that is perfectly suited to support a wide range of industries including the design of consumer products, automotive applications, integrated circuit design, aviation components, PCB integration and wireless communication devices – just to name a few.
The features built into the EM-ISight hardware enable it to meet the requirements for today's modern design and analysis methods from pre-compliance testing all the way through to product delivery!
Aprel's innovative EM-ISight EMI scanning test system is an affordable and easy to use solution for all electromagnetic design engineers. It is designed for small, medium and large organizations that develop, certify or approve product designs and is a fully expandable system that can grow to meet the needs of the future.
BIZI is the US Distributor of the full line of Aprel EMI / EMC products including the EM-ISight featured here.
To Request Further Information:
Email: Aprel Info Request Link
PDF: Aprel EM-ISight PDF Link
Phone: (800) 370-0123 or (978) 649-0722 – Call Today!
Aprel Test System Links:
Aprel EMI / EMC Test System – Product Lines
Aprel EM-ISight – EMI Scanning Test Station
Aprel Mini-HAC – Hearing Aid Compatibility Test Station
Aprel ALSAS-10U – Universal SAR Compliance Test Station