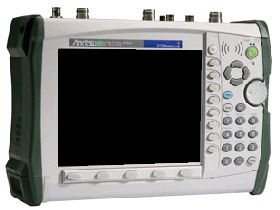 Anritsu MT8222A Telecom Analyzer
BIZI Price: $19,999.95 Sold
* This particular unit has sold, you can contact us to inquire about other telecom analyzer deals, Thank you!
BTS Master, W-CDMA/HSDPA Hand Held Base Station Performance Analyzer, 100kHz to 7.1GHz
Loaded With the following options:
10: Bias Tee
19: High Accuracy Power Meter ( with power sensor)
25: Interface Analysis
26: 6GHz Cable/Antenna Analyzer
27: Channel Scanner
31: GPS Receiver ( includes antenna)
33: cdmaOne and CDMA2000 1xRTT over the air measurments
34: EVDO over the air measurments
42: CDMA RF Measurements
43: cdmaOne and CDMA2000 1xRTT Demodulator
50: T1 Analyzer
62: EVDO RF Measurments
63: EVDO Demodulator
Many Accessories, Includes:
Hard Case (760-243-R), Soft Case
Original User's Manual, CD Software Tools, Original Calibration Certificates from 2008
Open Short Load Tool ( OSLN50-1)
Armor Cable ( 15NNF50-1.5C), USB Cable, Misc. Patch Cables
42N50A-30 , 34NN50
GPS Antenna
Portable Yagi Antenna ( 2000-1414) 1850 – 1990MHz
PSN50: High Accuracy Power Sensor ( 50MHz to 6GHz / -30dBm to +20dBm ( For Option 19)
This unit is in like-new, mint condition and if you were to buy it new, retail it goes for more than $38,000.00.
Take a look at the listed options and includes, this unit is absolutely loaded.
Call: 1-800-370-7883 or Visit: our Refurbished Test Equipment website.