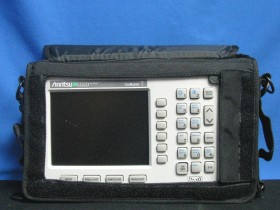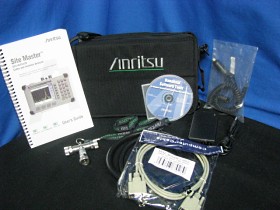 Anritsu S331D – Site Master Cable and Antenna Analyzer
BIZI Price: $4,995.00 – (Used / Refurbished) in Mint Condition! Sold
* This particular unit has sold, you can contact us to inquire about other Cable Analyzer deals, Thank you!
Anritsu S331D – Site Master Cable and Antenna Analyzer
Covers 25 MHz to 4000 MHz spectrum.
The Anritsu S331D – Site Master is the perfect solution for installing, maintaining and troubleshooting cellular and microwave systems.
This Unit Includes:
1 – Soft Case
1 – RS232 Interface Cable
1 – Phase Stable Cable
1 – AC Adapter
1 – OSLN50LF
1 – Cigarette Lighter Adapter
1 – Original Box
1 – Original Manual & CD's
From the Manufacturer:
Site Master Handheld Cable and Antenna Analyzer Model S331D covering the 25 MHz to 4000 MHz spectrum is the de facto industry standard for installing, provisioning, maintaining, and troubleshooting wireless base station cable and antenna systems. Option 2 and Option 16 extend the lower and upper frequency ranges to 2 MHz and 6 GHz respectively. Accurate, versatile, affordable, rugged and a true handheld at under 5 pounds (including battery), Site Master is ideally suited for field technicians of any experience level working with VHF, broadcasting, paging, cellular, PCS/GSM, 3G, ISM, WLAN and WLL applications.
S331D measurement capability includes precision Return Loss/SWR, Cable Loss and optional T1/E1 and power meter measurements. Frequency Domain Reflectometry (FDR) provides superior Distance to Fault (DTF) analysis to locate faults accurately. Patented RF interference rejection enables accurate, repeatable measurements in the presence of high RF activity. Data analysis software enables assessment of system trends, problems, and performance in addition to professional report generation.
Features:
Handheld, battery-operated design
Weighs less than 5 lbs. (including battery)
Built-in worldwide signal standards and frequency channels
TFT color daylight viewable color display
Superior Immunity to RF interference
Locate long range problems with 517 data points
Variety of Power Measurement solutions
Built-in and editable Signal Standard and Cable Standard lists
Multilingual User Interface; English, French, Chinese, Japanese, Spanish, German
Intuitive and easy to use with On-Screen Test Set-Ups
Saves 10 to 30 Measurement Test Set-Ups (10 VNA, 5 T1, 5 E1, Power Meter, 5 High Accuracy Power Meter)
Saves up to 300 Measurement Traces
Alphanumeric Labeling of Saved Measurements
Automatic Time and Date Stamp of Saved Data
Rechargeable, Field Replaceable Battery
Distance Measurement in Feet and Meters
Information Screens Provide Cable Attenuation and Velocity of Propagation values
6 Markers, Limit Lines, and Segmented Limit Lines
RS232 Interface
This Anritsu S331D – Site Master Cable and Antenna Analyzer is in Mint Condition, the pictures provided above are of the actual unit.
Call Today! 1-800-370-0123! or visit our Anritsu S331D – Site Master Cable and Antenna Analyzer product page on www.BiziTestEquipment.com.
You may also leave us a comment on this post and a BIZI representative with contact you promptly.
Looking for a different Anritsu Site Master model? Call or visit www.bizitestequipment.com.
Thanks for viewing this post!