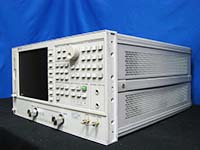 Agilent 8753ES S-Parameter Network Analyzer
BIZI Price: $14,495.00 (Used / Refurbished) Sold
* This particular unit has sold, you can contact us to inquire about other network analyzer deals, Thank you!
Network Analyzer 30 KHz to 6 GHz, with built-in S-Parameter.
The Agilent 8753ES network analyzer allows complete characterization of RF components.
Includes Option 006: Extends Frequency to 6GHz
The Agilent 8753ES RF Network Analyzer offers an unbeatable combination of speed, performance and ease of use to meet your RF Measurement needs both in the laboratory and the production environment. With an integrated test set covering up to 6 GHz and 110 dB of dynamic range, including both frequency and power sweeps, the 8753ES is a great solution for characterizing linear and non-linear behavior of active and passive networks, components, and subsystems.
This Agilent 8753ES is excellent condition with a few cosmetic scratches on the top cover, the picture included here is of the actual unit.
Call Today! 1-800-370-0123!
or visit our Agilent Network Analyzers page at http://www.bizitestequipment.com/used-agilent-network-analyzers.asp.