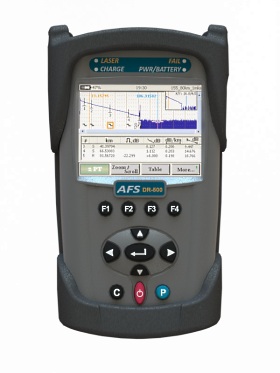 BIZI introduces the new DR-500 series handheld full color display Optical Time Domain Reflectometer (OTDR) from Advanced Fiber Solutions.
The DR-500 series is one of the most compact OTDR's on the market today, ideal for handheld use and pocket transportation. The unit is light weight weighing less than 1.6 Lbs. It is extremely rugged with a thick protective rubber boot surrounding the outer case.
The DR-500 is a full featured OTDR offering four different performance classes to choose from, with a dynamic range starting at 23dB going up to 43dB.
Class Optimized for Networks:
Class A – Private & Premise Networks.
Class B – FTTx & CATV Networks.
Class C – Close Event Detection / PONS networks.
Class D – Long Haul Applications.
Along with a wide dynamic range to choose from, the DR-500 offers a number of wavelength options for both single mode and multimode applications with single, dual, tri and quad models available. Wavelength options include 850nm, 1300nm, 1310nm, 1550nm and 1625nm.
The DR-500 is simple to operate and is the perfect installation, maintenance and link troubleshooting tool. It is the ideal OTDR for both inexperienced or the experienced technicians. The unit supports both a manual mode for the expert user which enables parameter setup and an automatic mode for the less experienced user which allows one touch auto run testing. The DR-500 series utilizes active sync for seamless USB connectivity with desktop software for advanced data analysis and storage capabilities.
The DR-500 OTDR is fully compliant and compatible with the .SOR file format outlined in the belcore GR-196 OTDR data standardization document.
The DR500 series has the capability to save trace data in pdf format for seamless documentation and printing.
Other optional features offered by this industry leading OTDR include a built in Power Meter, Light Source and Visual Fault Locator.
Each unit comes with a DR-500 series product manual, USB data transfer cable, the DR-500 series PC software, report certificate and a soft carrying case.
DR-500 Series Highlights / Features
Compact & Rugged Case
Single, Dual, Tri, and Quad &#955 Models Available
Events Table & Auto Test Function
Up to 42dB Dynamic Range
Weight < 1.6 lbs
Four Performance Classes
Save Data in Bellcore .SOR or PDF Format
USB Drive Compatible
Up to 9 hours of Operation, Li-Ion Battery
High Contrast Full Color Display
User Friendly & Easy too Operate
Optional: Power Meter & Light Source
DR-500 Series Model Numbers
For more information contact a BIZI Representative today!
Email Sales:

, or Call Now! 978-649-0722 / Toll Free: 800-370-0123.