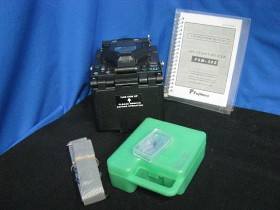 Fujikura FSM-50S Optical Fiber Fusion Splicer
BIZI Price: $10,995.00 (Used / Refurbished) practically NEW! (MINT Condition) Sold
* This particular unit has sold, contact us today for other fusion splicers deals!
Fujikura FSM-50S Optical Fiber Fusion Splicer w/ CT-30 Cleaver & More.
Includes: FSM-50S, CT-30 Precision Cleaver, Yellow Transit Case, Spare Electrodes, Manual, Shoulder Strap and Training CD.
The FSM-50S is Suitable for use with SMF, DSF, NZ-DSF and MM fibres, the FSM-50S is the successor to the world's best selling splicer, the FSM-40S.
Fujikura FSM-50S Splicer Features:
Fully automatic core alignment with 9 second splice time for SM fibre
Reduced splice protector shrink time – now only 35 seconds
Extremely compact and lightweight – just 2.8kg
Automatic fibre type identification
Multi-position monitor for front or top mounting
High capacity battery option for 120 splice/shrink cycles
Real time arc calibration
Fibre clamps integrated into wind protector to reduce operation time
Reasons to buy your next Fujikura FSM-50S from BIZI!
One free Depot-Maintenance Cleaning within 1-Year of purchase. (New Only)
Fully trained in-house staff for pre and post fusion splicer support.
We service all Fujikura FSM-40, FSM-50 and FSM-60 fusion splicers world-wide.
Free Repair Evaluations! Send your Fujikura Fusion Splicer to our Service Center,
We'll provide you with a free fair cost estimate for any repairs, cleaning or calibration.
From the Manufacturer:
The FSM-50S Fusion Splicer sets the standard for core alignment fusion splicers. The FSM-50S is the fastest field splicer available, and completes a splice and tube heat in a total of 44 seconds. The FSM-50S also includes user-friendly features such as calibration-free arc adjustments, automatic fiber type identification and reduced operational steps. The FSM-50S also offers increased flexibility for various splicing tasks with user-selectable front and back monitor positioning.
This Fujikura FSM-50S Optical Fiber Fusion Splicer is in Mint Condition, the pictures provided above are of the actual unit.
Call Today! 1-800-370-0123! or visit our Fujikura FSM-50S Fusion Splicer page at http://www.bizitestequipment.com/used-fujikura.html.
You may also leave us a comment on this post and a BIZI representative with contact you promptly.
Need a Cleaning, Service or Repair on your Fujikura FSM-40, FSM-50 or FSM-60? Visit our fusion splicer service and support page today!
Thanks for viewing this post!