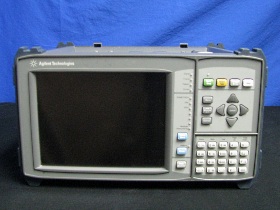 BIZI Price: US $ 7,500.00 – Excellent Condition!
OC-192 SONET/SDH Field Transmission Test Set
Included Options: See list below.
The Agilent HP J2127A's OC-192 SONET/SDH test capability allows comprehensive testing of synchronous networks with the following interface rates: 10 Gb/s, 2.5 Gb/s, 622 Mb/s, 155 Mb/s and 52 Mb/s.
HP Agilent J2127A Features:
Fully integrated all-rate SONET/SDH testing
Multi-port, multi-rate Ethernet testing
Full range of standard and concatenated mappings
All standard error and alarm measurements
Simultaneous all-channel testing
Broad range of graphical results tools
Comprehensive on-line help
HP Agilent J2127A Included Options:
102: 1310/1550 Optical Interface
190: FC/PC connectors
323: Ethernet Testing (8 x 10/100M; 2 x 1GbE)
325: 1000Base-SX (850 nm) GBIC modules (two)
For more information on this HP Agilent J2127A OC-192 SONET/SDH Test Set,
Contact a BIZI Representative today!
Call: 1-800-370-7883 or Email: Click for Email Link.
Other Agilent Test Equipment Links: